Kristen Stewart Reveals Converse Obsession Secret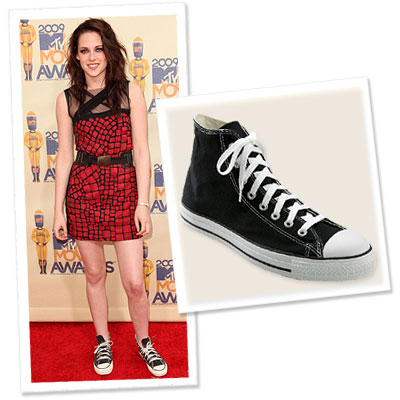 Kristen Stewart is known for mostly wearing Converse shoes while she is on the red carpet or for any other event she is part of. Most people think that she is clearly obsessed with these types of shoes. People usually assume that was just her style to be comfortable and laid back, but she has a hidden reason to why she wears Converse or Vans and the reason is for her fans. You might be thinking why would she wear them for her fans?
The answer to that question is so that she can sign more autographs. If she is wearing pumps and is walking down a long red carpet, she isn't going to be too comfortable. If she isn't comfortable, she isn't going to stop often and hang out with fans taking pictures and signing autographs.
Stewart recently revealed in an interview that other female celebrities are "more concerned about looking pretty in your heels," and she suggests, "you're walking slowly down the line. Put a pair of sneakers on." See Twilight fans she loves you all!
This young actress is all about being comfortable walking red carpets, doing promotions, interviews, etc. But her main objective is to be able to connect with fans as much as she possibly can. She realizes that without her fans she is nothing as they are the ones who help her to raise to where she is at in her career.
Stewart has mentioned in recent interviews that it's a bittersweet feeling being finally done with the Twilight series, but she has grown extremely close with everyone she has worked with over the past 5 years.
Ladies are you interested in achieving the same smoky eye looks that Kristen Stewart does? Then you need to get the e.l.f Studio 144-Piece Ultimate Eyeshadow Palette and it comes in a great price.