Even though there is still a month away till the widely know love day you can still think about fun and cute nail designs to show off before the big day. There are so many simply nail art designs that you can do to show off your fun and loving side. The best part is that you don't have to be a nail artist to do these designs on yourself as they are that easy to do. Lets take a look at the 5 Nail Art Designs For Valentine's Day:
1. Stained Glass Modern Look:


This look is modern yet old fashion as it was developed to resemble a stained glass window or object. You can add different shades of pink and red as well as use white to separate your windows.
2. Simple Hearts:


This look is easily created as you only need to apply two coats of white polish, red tips and then choose where you want to place your hearts at. You can add hearts to every nail or do as the picture shows. Use a toothpick or nail art tool to draw the heart directly on your nail and then fill in with red nail polish.
3. Black, White & Red Hearts:


This might be a little too much for a beginner to do for themselves, but it isn't impossible. Try doing one of these designs on one finger and paint the rest another color. These designs have a white nail polish base and the rest of the designs are drawn on once the base coat is completely dry.
4. Stripes:


You can add a few stripes into your nail art design along with your hearts. Try using different colors to make your stripes appear bold and you can either paint your hearts the same or a different color.
5. Two Tones: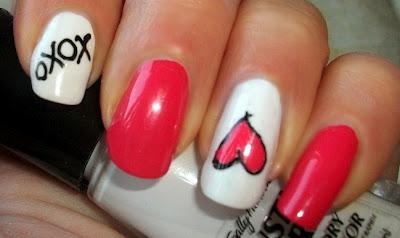 Use two different colors and alternate the two colors on your nails. Add simple hearts and xoxos to some of your nails. These designs should go on the nail polish that is the brightest.
Once you have experimented with your nails make sure you find that hot hairstyle you want to have. Take a look at the 5 Woman Hairstyles That Will Make You Feel Sexy to get some ideas on how you want to look.